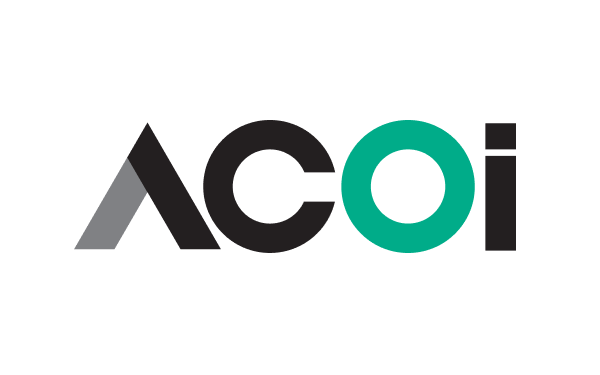 See more general information about the ACOI Demo and accessing your account in this one-pager. Below is a visual guide to accompany the evaluative demo account experience for ACOI's staff and board.
1. Activate Your Demo Account & Sign In
The CE App can be used on any device's website browser without needing to download anything. As part of the demo for ACOI, you'll be provided with a unique activation link (one per person/email) to activate your personal account. Note that this account is a demo account and you can test out any functionality without affecting your real CME/MOC history or official credentials, but if you desire to provide real information (i.e. recording real CME/MOC history within the site), you will have the option to transfer that information into your real account upon launch.
When you first activate your account you'll be guided through the CE App and asked to enter your credential information i.e. a license or board certification to get started. Members can add as many of these as desired within their Profile after the initial setup.
SSO Integration: As part of our launch plan, we'd want to integrate single sign-on (SSO) so that ACOI members can sign in automatically via their ACOI account without creating any additional account within the CE App. For this demo, we will still be using password-based sign-in and plan to integrate SSO for launch. Login Credentials: your credentials will be the same as those you use to sign in to the ALTA members-only page.
"ACOI Demo" is the name of the organization and will display throughout the interface. This will be replaced "ACOI" as the organization for launch-ready implementation.
2. Track CME/MOC Education
When you first sign into the app and view your Continuing Education History, we'll have a sample of historical records there from past ACOI CME/MOC you have attended. We'll plan on importing those into member accounts pre-launch and integrating them into ACOI's learning center to sync new attendance into the CE App dynamically as members attend events and complete courses.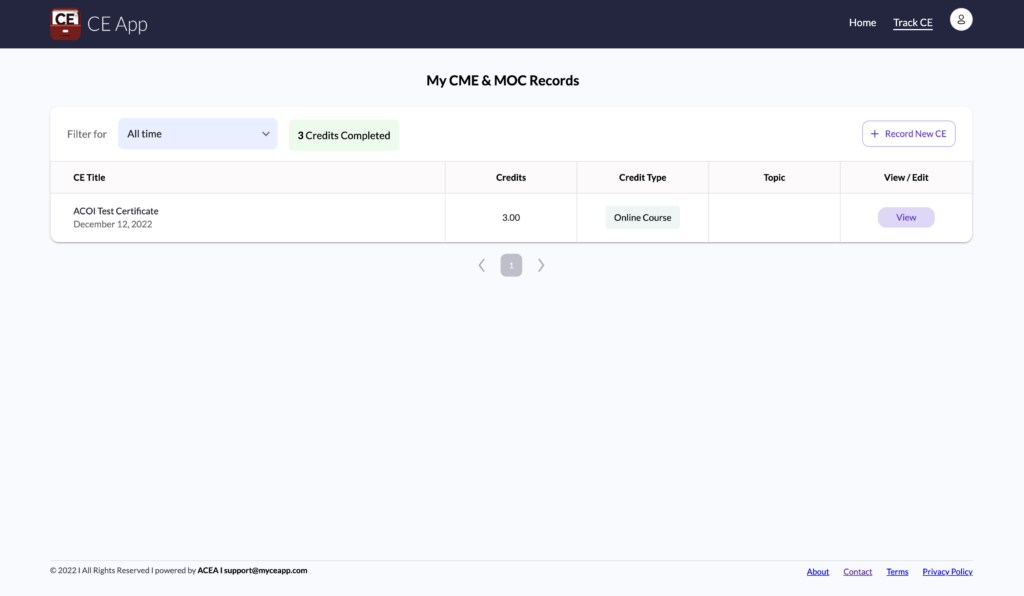 You can choose to record any additional education you have taken from any provider by clicking "+ Record New CE" and simply dropping in a certificate on the right side of that page.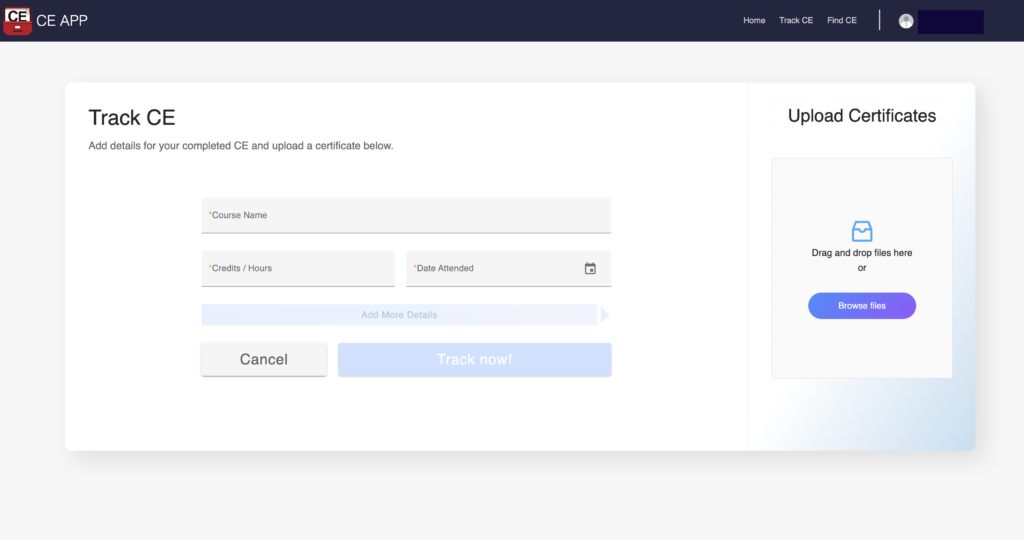 You'll see that you can tag the credit type (i.e. AOA Category 1-A Credits) or topic (i.e. Ethics) to fulfill your requirements. These requirements are managed by the CE App's compliance team for each type of license or certification that members will add. Your demo account may include some of the required topics and credit types as auto-fill options when you start typing within each respective dropdown.
Additionally, ACOI members will get our Elite membership experience where members can easily forward us their continuing education certificates via email and we record the credit to their accounts. This white-glove service makes it even more seamless for members.
Click here to see a sample of email support benefits including this white-glove certificate service, renewal reminders with credential requirements, and ACOI content suggestions to fulfill those requirements.
Customizing the CE App for ACOI
As part of a successful launch with ACOI, ACEA will be implementing customization to our software and enhancements to meet the needs of ACOI's members:
Status Dashboard – this will be a member-only premium feature.

The status dashboard will be a do-it-all page where members can get a summary of the information they need for their upcoming credential (license/certification) renewals. They'll be able to see the number of credits they need to fulfill each requirement per credential and reference the original board requirements where necessary.
On this page, ACOI can also advertise any of the educational activities to fulfill those requirements or encourage members to explore their other educational opportunities.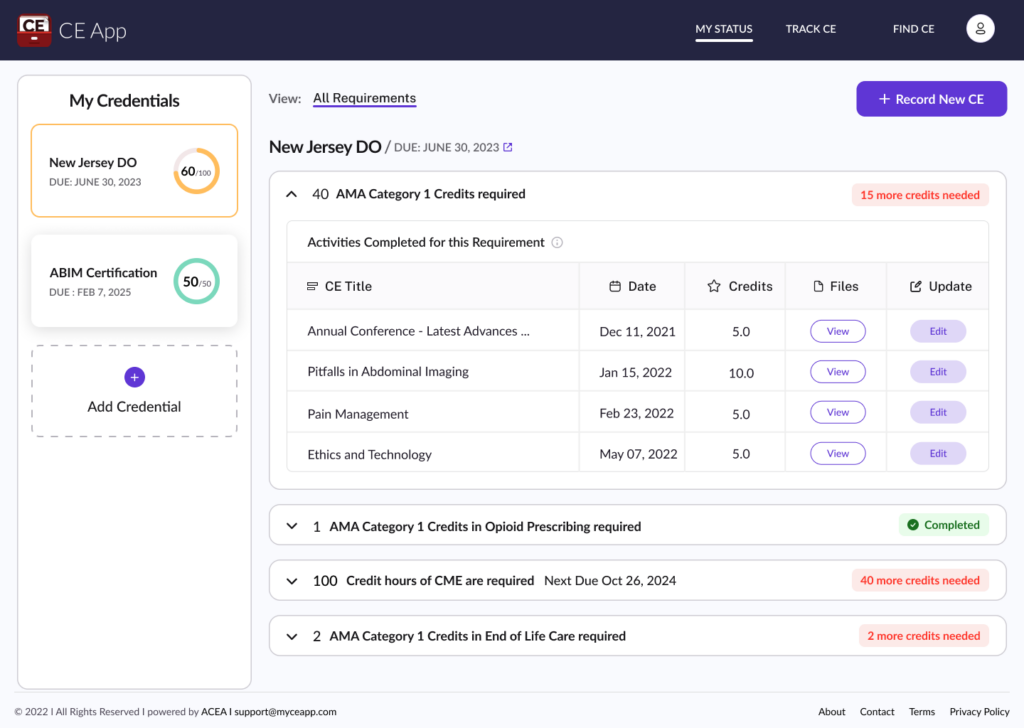 Reporting to third-parties

The CE App will integrate enhanced capabilities for members to report credits into their states or AOBIM board certification. Read more about that in the CE App Overview and FAQ for ACOI here.

Simply email us

In order to support simply emailing us CME certificates and other email support at a lower cost for ACOI, the CE App will be leveraging enhanced AI (artificial intelligence) and automation to augment human-based support for members.
Have comments or want to learn more? ACOI will be planning to have live discussions with ACEA, the creators of the CE App, as part of our evaluation of this platform so we can ask experts and provide feedback to make this an excellent experience for ACOI members.